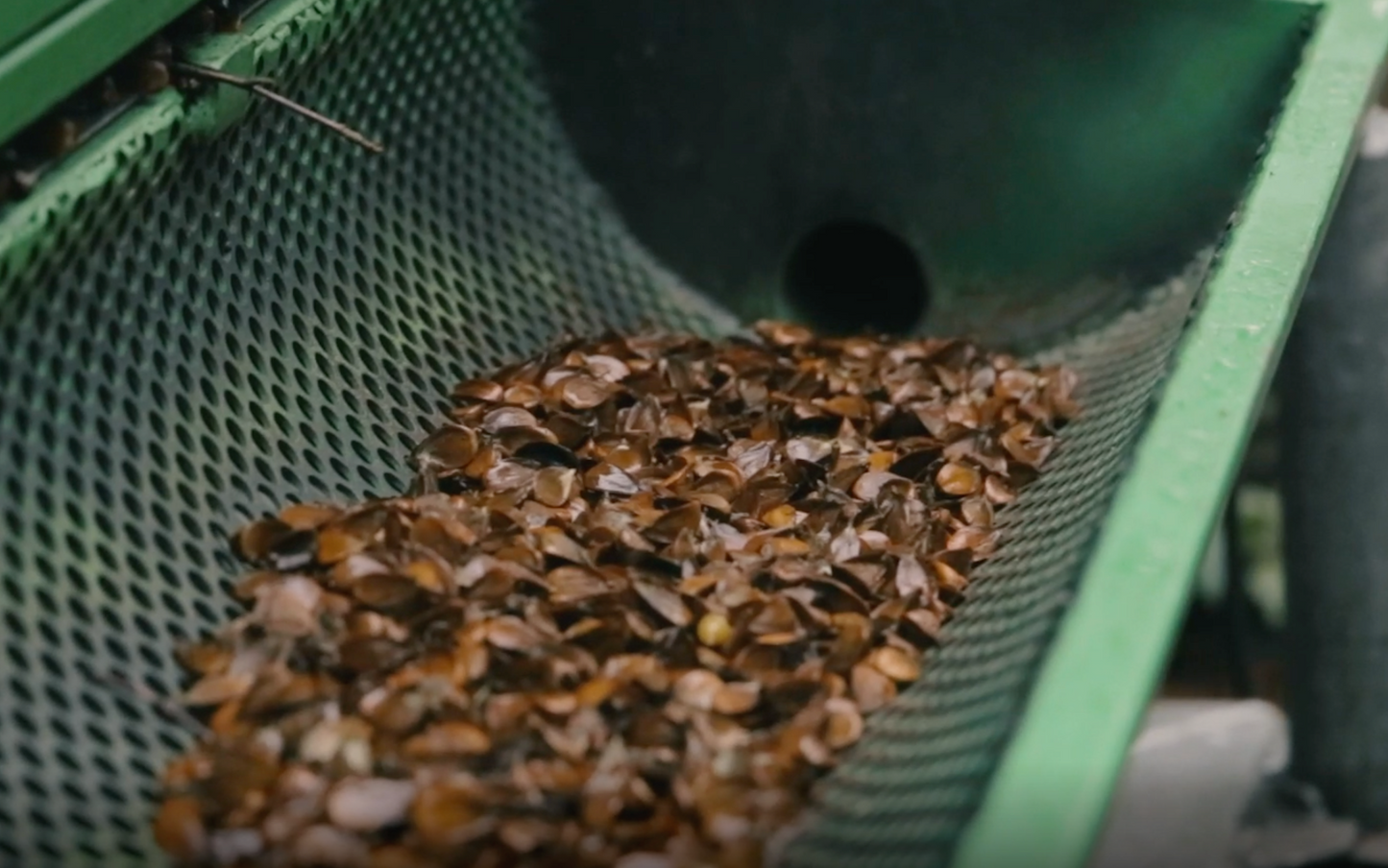 The superfood - the beechnut
Unique raw material for health-conscious gourmets.
Beechnut oil is a highly concentrated oil from beechnuts - the fruits of the common beech tree that grows in our forests.
Every year in autumn countless nature lovers go into the forest. There they find large amounts of beechnuts. When they get home, they roast them and bring the wonderful nutty aroma of the forest into their home kitchen.
Beechnuts not only taste delicious. They also bring many valuable ingredients with them, such as unsaturated fatty acids and important vitamins such as B1, B6 and folic acid. In addition, valuable minerals are included, including iron, copper and zinc. These are particularly concentrated in beechnut oil, because a large amount of beechnut is needed to produce one drop of the valuable oil. The beechnut oil is a special rarity among edible oils.
Beechnut oils have a fine nutty flavor and are versatile. Beechnut oil not only refines salads and game dishes, it is also a special taste experience for pestos, pasta and desserts, which is appreciated in numerous star kitchens.
The nuts in the beechnut oil do not come from a monoculture , but are actually collected by us in the forest. After all, it is the responsibility of all of us to ensure sustainability. This means that there is no need for artificial irrigation and no interference with the natural ecosystem. We find all the fruits where beeches have their natural habitat. It couldn't be more original and passionate.
Would you like to enjoy the nutty taste, benefit from numerous good ingredients and at the same time hold a sustainable product in your hands? Then the beechnut oil from Waldgold is the right choice for you!
Enjoy protecting the climate with beechnut oil
Compared to individual beechnuts, the aromas and ingredients in the oil are more intensely concentrated and you get the best of the beechnut.
The WALDGOLD beechnut oil can be perfectly dosed by the beautiful bottle and thus refines all dishes. The dark coloring of the bottle protects against too high light intensity and ensures the preservation of the valuable ingredients.
Beechnuts from domestic forests are considered a delicacy and our beechnut oil is a special rarity. When used in the kitchen, there are no limits to creativity. Thus, the oil refines salad dressings, game dishes, pestos, pasta and even desserts. For more recipe inspiration, check out the Recipes section.
The beechnuts come from 100% sustainable wild collection, they are rich in valuable monounsaturated and polyunsaturated fatty acids (92% total content). In addition, the use of pesticides as well as artificial irrigation is not necessary, because we harvest where nature provides us with the beechnuts all by itself in sufficient quantities without further intervention.
Frequently asked questions about our beechnut oil
How to use beechnut oil?

Our high-quality beechnut oil is used in many dishes in the kitchen. Its wonderful nutty aroma is the perfect ending to exquisite game dishes. As autumn and winter approaches, a venison ragout drizzled with beechnut oil is extremely good.

Gourmet chefs have long recognized the refined taste of beechnut oil and like to use the finely tuned flavor components for salads and mushroom dishes. It is also ideal for potato gratin and sweet desserts. With its unique note and the delicate taste of roasted nuts, beechnut oil is definitely something for true gourmets.

Some are enthusiastic about the ingredients. A look at the list of substances it contains shows that beechnut oil contains a large amount of polyunsaturated fatty acids. These can have a positive effect on cholesterol levels, especially in people with an affinity for fatty dishes.
How is our beechnut oil made?

During production we follow the laws of nature. We want to keep our ecological footprint as small as possible. This is only possible with mature manufacturing processes.

With a great awareness of sustainability and an unending love for nature, we develop oils for the future of people, animals, plants and planet.

In doing so, we focus on the needs of the forest. If we comply with this, it will continue to give us plenty of beechnuts. Exploitation is not an issue for us. We have opted for a gentle harvest and only want to process beechnuts when they naturally fall to the ground.
What does beechnut oil actually taste like?

Beechnut oil tastes like the concentrated power of the forest. There is an incredible number of natural influences in every drop. Remember that a beech tree only bears fruit after 40 years. During this time it is exposed to many influences. All these influences can be found in part in the beechnuts.

You can taste it after pressing the beechnuts and processing them into oil. The oil is strongly reminiscent of the taste of nuts. The gentle nuttiness goes well with many dishes and is so subtle that you can enjoy the oil pure or in your daily smoothie.