General information and use:

This exclusive oil is obtained from individually quality-selected beechnuts. It impresses with a high content of unsaturated fatty acids and its unique spicy taste.

In order to preserve the fine taste and the valuable ingredients in the best possible way, our oils should be heated only slightly. At the same time they should be stored cool and protected from light, because this prevents premature oxidation of the product and the quality of the oil is preserved. Opened oils should be stored in the refrigerator and used up as soon as possible.

May contain traces of soy, nuts and lupin.
Nutritional values

Nutritional values per 100 ml
Energy kJ / kcal: 3404 kJ / 828 kcal

Fat: 92 g
- thereof saturated fatty acids: 10 g
- thereof monounsaturated fatty acids: 43 g
- thereof polyunsaturated fatty acids: 39 g

Carbohydrates: 0 g
- thereof sugar: 0 g

Protein: 0 g

Salt < 0.01 g
Ingredients

beechnut oil*, wild garlic*
*from sustainable wild collection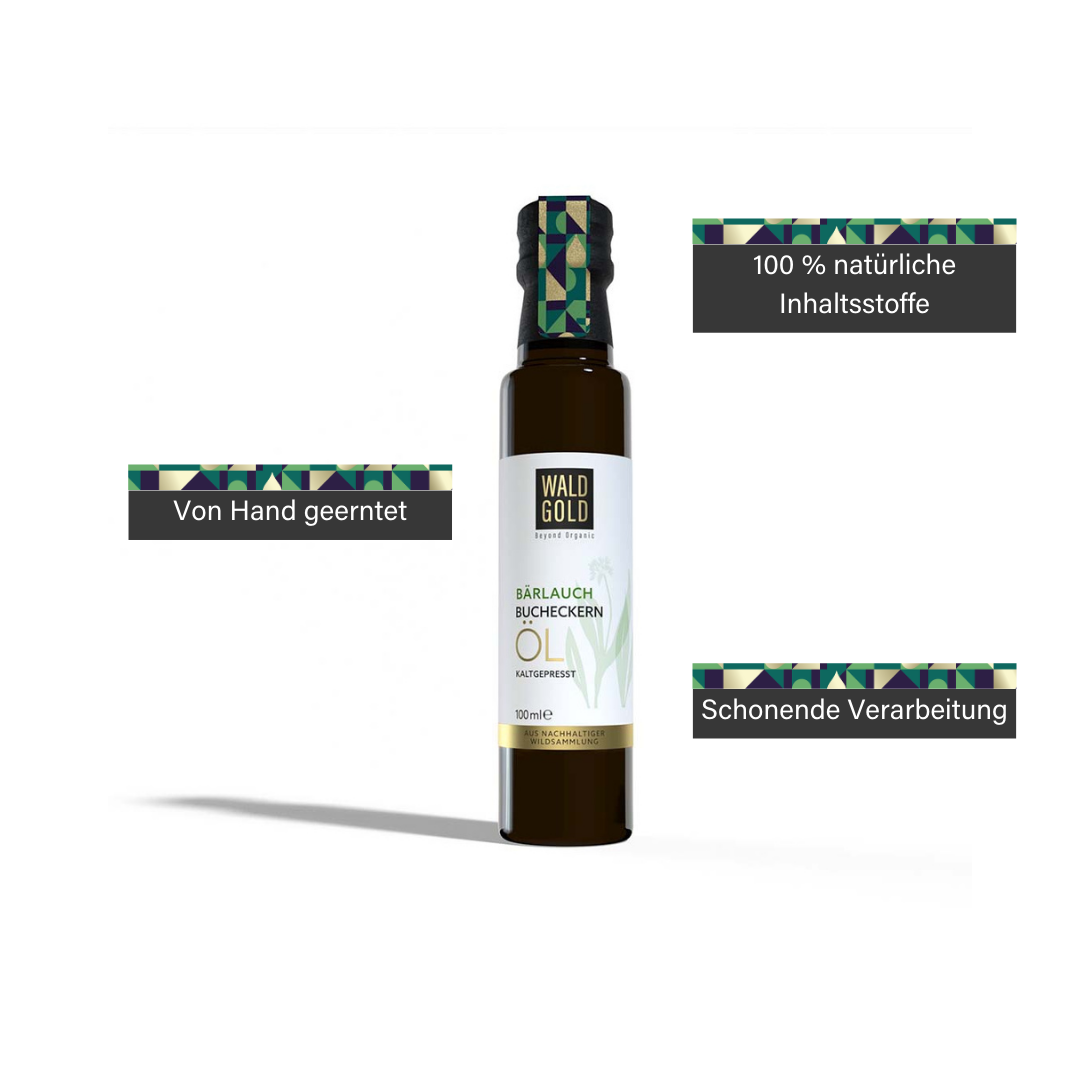 For this premium spice oil we use our wild-collected beechnuts, which are gently pressed together with wild garlic. Thanks to the common pressing, the oil has a special flavor of nuttiness with intense herbal notes. It is ideal for seasoning and refining cold and hot dishes such as fried potatoes or salads as well as dips and sauces. With this ecological secret ingredient, you can conjure up gourmet dishes in no time at all that convince with nutty flavors and at the same time support sustainable raw material extraction.
Our harvest promise
0 liters of water consumption
No artificial irrigation
Beyond Organic
No pesticides or land clearing
CO2 negative cultivation
Raw material cultivation without pollutants
Our harvest promise
0 liters of water consumption
No artificial irrigation
Beyond Organic
No pesticides or land clearing
CO2 negative cultivation
Raw material cultivation without pollutants